Frequently Asked Questions
Answers to some of the most asked insurance questions.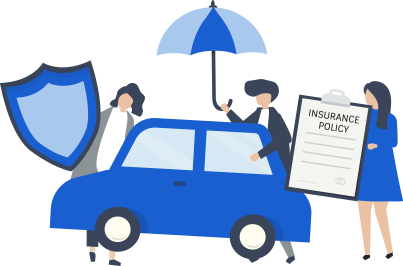 This is an often misinterpreted term, and doesn't refer to a policy that covers "everything." Instead, full coverage typically refers to a policy that includes both liability coverage and coverage for damage to your property.
Most states require you to carry a minimum amount of liability insurance and also provide proof of insurance to register a vehicle or renew your license. In the case of an accident, the minimum liability insurance required by the state may not be enough coverage to pay for the damages that result after an accident. In this case, the driver responsible for the accident may have to pay additional expenses out of pocket.
Deciding on an auto insurance policy can seem overwhelming. We can help match you with just the right coverage for you and your vehicle. We will help you every step of the way to choose an auto insurance policy that makes sense for you.
Auto insurance premiums change for the same reasons that the price of other goods and services you buy change.
Insurance companies incur the same costs you do in buying goods and services, and these costs can ultimately affect your insurance premium. Costs affecting the ultimate price of auto insurance include:
Medical costs to treat injuries
Auto repair costs
Costs to adjust claims
Inflation
Uninsured drivers (your policy pays when the other driver doesn't have an auto insurance policy if you purchase Uninsured Motorist coverage)
Although insurance companies can't directly control these costs, we regularly monitor them to see how they are affecting the costs of the claims we pay. As they change, auto premiums must be adjusted. These costs can affect your auto insurance premium whether or not you individually have had an accident or claim.
Changes you make to your auto insurance policy or coverage may also change the premiums. Adding or removing a driver, buying a new car, moving to a new location or changing how you use your car may influence the cost of your auto insurance.
Even the safest cars are dangerous if not driven safely. However, discounts are available for drivers who drive cars with air bags, anti-lock brakes, and electronic stability control. We help you by letting you know which vehicles are better insurance values.
Your home is probably the single largest investment you'll ever make. By insuring your home, you are helping to protect your investment.
Estimating the cost to rebuild your home will help you decide the amount of insurance you'll want to purchase. The primary factors that'll determine the cost to rebuild your home include:
Local construction costs
The square footage of your home (and the number of bathrooms and other rooms)
The type of exterior wall construction – frame, masonry (brick or stone) or veneer
The type of roof
The number of floors (one to four stories, bi-level or split level)
Special features like attached garages, fireplaces, exterior trim and arched windows
Quality of materials and finishes throughout the home
A deductible is the amount you're responsible for in the event of a covered loss. In most covered loss cases, you are responsible for any amounts up to your deductible level and your insurance would cover anything beyond that up to your coverage limit. For example, if you select a $1,000 deductible and have a $4,200 covered loss, you would receive a claim payment of $3,200 after deducting the $1,000.
A homeowners deductible applies to each claim. If you have more than one claim in a policy period, you will be responsible for the deductible amount for each individual claim regardless of the number of claims you have during that policy period.
The deductible you choose will be listed on your Declarations page. For additional questions, please contact us.
Lawsuits are common today. If you accidentally injure someone or damage their property, you could be sued. And more and more, juries are awarding very large verdicts. Your homeowners, property and auto policies may provide substantial liability limits, but juries can award sums that exceed those limits.
Personal Liability Umbrella insurance acts like an umbrella, providing additional coverage on top of your auto and homeowners liability policies. It supplements your existing policies to provide additional personal liability protection.
The Umbrella policy goes into effect after the underlying liability limits on your homeowners or auto policy is exhausted. Therefore, your policy must have certain limits in order to qualify for an Umbrella policy.
Auto Insurance Liability Limits:
$250,000 bodily injury per person
$500,000 bodily injury per occurrence
$50,000 property damage per occurrence
Homeowners Insurance Liability Limits: $300,000
The policy provides:
Liability insurance that adds to the limits of your automobile, homeowners and recreational vehicle or boat liability policy limits.
Coverage for unknown or unexpected exposures that are excluded in typical auto, homeowners, recreational vehicle or boat liability policies.
Coverage for the cost of your legal defense. This includes court costs, interest on judgments and premiums on necessary bonds.
For more information, please contact Contact Us.
On a homeowners policy, there is limited, standard coverage available for your jewelry. In most cases, you may want to consider purchasing a Personal Articles Floater, which provides coverage for your jewelry when its value is higher than the limits stated in your homeowners policy. Your local Farmers agent can help you when you are determining if you need to purchase Floater coverage.